Basics of Shotgun Shooting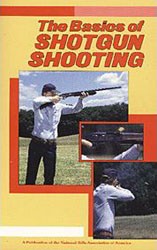 What is the Basics of Shotgun Shooting course?
This course is at least 10 hours long and includes classroom and range time learning how to shoot shotguns at moving targets.
What Will I Learn?
In this course, you will learn the basic KNOWLEDGE, SKILLS, and ATTITUDE necessary for safe and proper use of a shotgun in shooting a moving target.
- NRA's rules for safe gun handling
- Shotgun parts and operation
- Shotgun shell components
- Shotgun shell malfunctions
- Shooting fundamentals
- Range rules
- Shooting at straight away and angled targets
- cleaning
- Continued opportunities for skill development