Defensive Pistol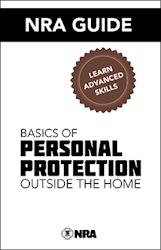 What is the Defensive Pistol course?
The NRA Defensive Pistol Course will focus on the techniques needed to develop a defensive mindset.
What Will I Learn?
In this course, you will learn the basic KNOWLEDGE, SKILLS, and ATTITUDE to carry and use a concealed pistol ethically, responsibly and with confidence.
- How to apply the NRA Rules for Safe Gun Handling when carrying a concealed firearm
- Basic principles of concealment
- The difference between cover and concealment
- Drawing from the holster
- Levels of mental awareness
- Developing the proper mindset when using a pistol for personal protection
- Clearing common stoppages
- Use of pocket pistols