Basics of Pistol Shooting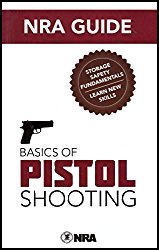 What is the Basics of Pistol Shooting course?
The NRA Basics of Pistol Shooting is intended for all individuals regardless of previous shooting experience or NRA-affiliation and is available for delivery in two ways. One option is the traditional, instructor-led course where you will receive direct instruction from an NRA-certified instructor from beginning to end. The other option has two components: a self-study or "eLearning module" which is completed online in your own timeframe and a hands-on practical portion conducted in a classroom and shooting range with an Instructor.
Instructor Led Only Training: The Instructor Led Only takes place in a traditional classroom and range environment. This course may be completed in a single day format or over several days with smaller blocks of instruction.
The Blended Training format provides students the flexibility to complete a significant portion of the course in an eLearning environment, prior to arriving for the classroom and range session with an NRA Certified Instructor. Phase I is the online portion and is an easy-to-understand online training program that allows you to go at your own pace and learn from the comfort of your own home. Simply go through the online course material, successfully complete the online exam, and you'll receive your certificate of completion instantly. Phase I includes 11 lessons and will take about 7-8 hours to complete. The good news is that you have 90 days to complete it so you don't have to do it all at once. However, you must score a 90% on the exam in order to receive your certificate. Don't worry, you'll have 4 additional opportunities to retake the exam and pass. To register for Phase I, click here. Once you've completed Phase I, you are now ready to move on to Phase II. This is the instructor-led-training portion of the course. This is where you get your hands-on experience from an NRA Certified Firearms Instructor.
What Will I Learn?
In this course, you will learn the basic KNOWLEDGE, SKILLS, and ATTITUDE necessary for safe pistol shooting and safe gun handling.
- Essential gun safety rules
- Different types of pistols and which one is best for you
- The basics of ammunition
- The fundamentals of pistol shooting
- Different shooting positions
- The most common shooting errors
- Proper gun cleaning and maintenance
- How to maintain your skills